Fireside Chat with Jon Blum of Centers for Medicare and Medicaid Services
Posted in Blog
November 2021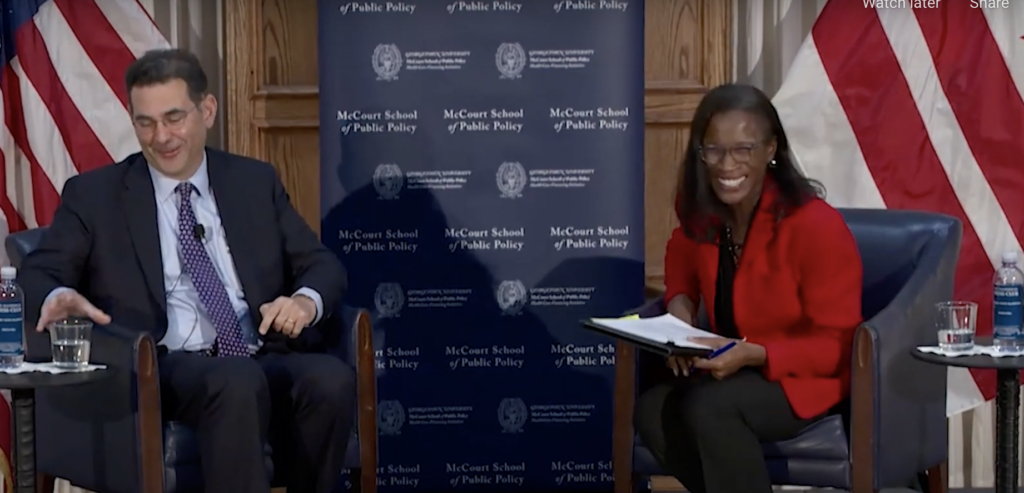 Eavesdrop on My HCFI Fireside Chat with CMS COO Jonathan Blum to Learn 2022 Strategic Priorities of the Centers for Medicare and Medicaid Service (CMS)
Carol B. Davis, PhD, MBA
Few people who deal with the Centers for Medicare and Medicaid Services (CMS) are shy about sharing opinions on what the agency should be working on. But in light of the pandemic–a whopper of a problem for any public health facility and agency–what challenges rise to the top, and how might they be faced? It was time for a little chat. The
On October 21, I put on my hat as associate director of research and publications of the Health Care Financing Initiative (HCFI) and sat "fireside" with none other than CMS Principal Deputy Administrator Jonathan Blum to enjoy a candid conversation at the National Press Club. It was just me and him–and about forty representatives of academic, governmental, nonprofit, and other communities deeply involved in everything from acute care to research to general public health.
Below is an excerpt of the full transcript, edited for clarity in this format.
ME: How would you rank the two or three top challenges facing CMS right now?
BLUM: "There are many, many, but I think the top that comes to mind is that we have to [use] CMS as part [of the response] to the pandemic. That means more safety regulations, putting in place payment policies that support vaccines throughout the country, and really thinking about how we organize the health care system to ensure that it's safer, more responsive, more resilient to wherever the pandemic goes during the next several years.
"What we've seen is that particularly the Medicaid program, but also the Medicare program have been the backbone to coverage and to delivery. If those programs can flex and provide support—[although] not always as quickly as we want–they have been the foundation to the overall response during the past 24 months or so. We have to think about that vision for the future. That's challenge number one.
"Challenge number two is the President, the Secretary, and CMS leadership have said that health care fairness, equity, and closing gaps in care [comprise] the second priority. We've seen that those who are most affected by COVID are those who are the most vulnerable, those who are living in nursing home settings, those who are dually eligible, those who were from communities that don't have sufficient resources. I think we have to provide leadership on what that means.
"So we have defined how the health system has defined the need. Now CMS needs to provide leadership for how we really put those goals in place–what programs, what policies, what operational principles. And not just for our programs but to provide leadership for the future.
"Third challenge, we have to cover more people. We have made phenomenal progress in the last six to nine months, so more people are covered, but we're going to have some challenges going forward to ensure those coverage goals really are achieved.
"And fourth, I think one difference today versus my first time [at CMS], is that there's some fatigue regarding how we transform overall health care delivery. What's the value proposition? What's the notion? We have to capture that back and jumpstart the conversation for how we provide care that's higher quality, that's safer, that's lower cost.
ME: "I'm going to ask you to do a little deeper dive on one of the things you just mentioned in terms of operationalizing–the issues around equity for all the marginalized and currently underserved communities. Is there an example of what that leadership might look like to the extent that a lot of the improvements [needed] require investments outside of what you would traditionally think of as health care or medical delivery? How does CMS help?"
BLUM: "There are a couple of things. Number one is that we have to declare it as a top national goal, and I think that has been achieved. Even before CMS began to talk about equity, other health care systems [and] communities have focused on that being a top, top, top priority, so I think that has been achieved.
"The second process going forward is to define how we're going to measure, how we're going to assess, whether or not we're making overall change in the health care system. What we know is that our data systems, our collective data, doesn't give us the information that we need to really assess where we have need, where we have progress, where we have more work to do. I think the second challenge is for CMS to provide leadership for how we collect better information, so we can assess how we're doing; we can assess where we have greatest need; we can assess where we need to bring greater resources.
"The third step to us is that we have to start setting some more tactical goals. What you will see happening in the next several weeks is CMS putting out a strong strategic plan that's going to have quantifiable goals for the outcomes and a set of cross-cutting programs that we'll touch throughout the agency to define what we need. We have built the first piece of defining the challenges, defining the needs, defining the goals. We have so much energy throughout the country that really supports the goals. It's up to CMS and the entire health care system for us to define what we mean, how we get there, how we measure progress.
Want to hear more insights from Administrator Blum? Watch the entire event recording or listen to a clip or two. I also invite you to follow and share comments with HCFI on Twitter at @GUHealthFinance. I thank Administrator Blum again for taking time to participate in this first in-person HCFI event of 2021. Stay tuned for more HCFI-hosted events that advance conversations and insights on health care policy, finance, and delivery in America.